Belgian timber construction awards
Published on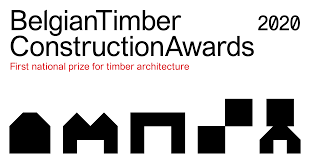 Presentation

The first national prize for wooden architecture, the Belgian Timber Construction Awards highlight wooden construction and create a Belgian showcase of quality wooden architecture.

In a context of climate change, the wood material, 100% natural, renewable and storing CO2 in the long term, is positioned as a solution to this problem, by becoming a reference material favoring short circuits and the circular economy. In an increasingly urbanized environment and a tendency for populations to migrate to cities, wooden buildings are the link between the city and nature, the organic touch in a mineral universe.

Timber construction is developing all over the world. Even if in some countries the residential wooden house is the norm, it has been widely developed worldwide from year to year. Research on this material, in the various fields of construction, has enabled the development of innovative products allowing wood to position itself on markets reserved until now for concrete or steel. The recent development of multi-storey buildings is proof of this. These developments lead to a specific architecture to which wood can meet all challenges.

This is how Hout Info Bois wanted to highlight wooden architecture through the Belgian Timber Construction Awards.

Categories & Awards
The prizes will be awarded to architects, or their offices, who have distinguished themselves in the past 4 years for their wooden buildings which fall into one of the following five categories. This is a unique opportunity to highlight their work, their knowledge and their know-how.

Residential Building 4000 €

Single family Home

MultiResidential Building 4000 €

Apartment building, group housing, etc.

Non-Residential Building € 4,000

Offices, nursery, school, rest home, business, warehouse, gym, public space, agricultural building, shopping centers, etc.

Extension 3000 €

Extension of any type of building

Raising 3000 €

Additional storey (s) of any type of building

Jury

The exact composition of the jury will be communicated at a later date, at the latest one week before the closing date for entries. The members of the jury will be Belgian and international experts who will assess each project according to the criteria set out in the regulations. The jury will meet in a place and at a time determined by the organizers (September 2020).